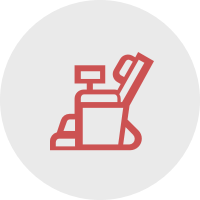 Chair Massage
TREAT YOURSELF
AND YOUR DEPARTMENT TO A MASSAGE
A 10-minute chair massage can do wonders to relieve stress and tension and alleviate neck and shoulder pain. Through the OSU Health Plan, departments can request complimentary, on-site chair massages for benefits-eligible faculty and staff once a year.
COVID-19 Update
Due to the public health emergency, we have temporarily suspended chair massages. When we resume those services, we will post the public health requirements for participating.
Frequently Asked Questions
How many people can participate?
The therapist can be on-site for up to four hours and accommodate 20 people during that time. Larger departments can schedule more than one time per year in order to accommodate everyone.
---
How do we get started?
If you are interested in scheduling a visit from a massage therapist for your department, all you need is a quiet room with at least 8 x 8 feet of unimpeded space for the therapist to work in. Participants will be asked to sign a waiver indicating that they have no medical issues preventing them from utilizing the service.