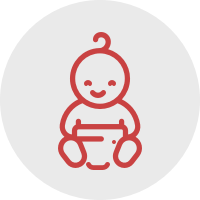 Buckeye Baby Program
EXPECTING A LITTLE ONE? BUCKEYE BABY IS HERE FOR YOU.
Are you expecting a baby? The Buckeye Baby program from OSU Health Plan and Your Plan for Health (YP4H) is here for you. We offer free support to expectant parents from early pregnancy through delivery and post-partum. All services are complimentary and confidential for those who have OSU Health Plan insurance.
Enroll in Buckeye Baby
Learn more about the Buckeye Baby Program

What is the Buckeye Baby program?
Buckeye Baby consists of four live webinar-based discussions that review different pregnancy-related topics. You can choose to schedule and attend all four webinars or only participate in the topics that most interest you. During each session, you will be able to ask questions and share ideas with other expecting parents. Individual telephonic sessions are also available as needed, including follow-up sessions to provide support following the birth of your newborn.
2020 Buckeye Baby Session Dates
Navigating Your OSU Health Plan Benefits and Resources
Lactation Benefits
5/26/20  |  7/28/20  |  9/22/20  |  11/17/20
Navigating 1st and 2nd Trimester of Pregnancy
6/16/20  |  8/18/20  |  10/20/20  |  12/8/20
Navigating 3rd Trimester of Pregnancy and Postpartum Support
Learn about Buckeye Baby, all in one place.
Buckeye Baby Education Program Recordings
Buckeye Baby Program Recordings offer a simple and convenient way to learn about important care topics that benefit you and your baby during and after pregnancy. These recordings are accessible through webinars hosted by Ohio State instructors.
Enroll in Buckeye Baby
Complimentary and confidential for pregnancy and postpartum services for those who have OSU Health Plan insurance