Duo
MANAGING DEVICES AND SETTINGS
There will be times you want to remove a device from your Duo account, or maybe modify some settings on your account. The process consists of authenticating with Duo and choosing My Settings and Devices.
To start you will first need to visit the LinkToHealth where you will be prompted to log in using your username and password. If you are having trouble with your password you may reset it or contact the OSU Health Plan at (614) 292-4700. If you have not registered for your account previously, please see Duo - Registration Setup.
Click on the link My Settings & Devices on the left hand side of the screen. If you cannot click My Settings & Devices you may have turned on an optional feature during the set up process that can cause issues. Please see Automatic Settings if you are unable to click the link.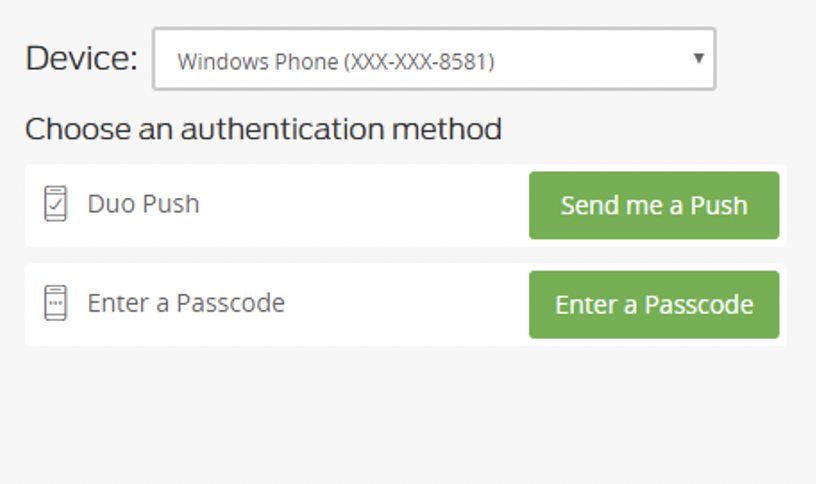 You will then need to authenticate using Duo to prove you are who you say you are. You may use whatever authentication method you prefer. Please see Duo - Authenticating.
Within My Settings & Devices you can see the different devices you have attached to your Duo account:
Set your default device
Modify options for the devices
Manage automatic settings.
*WE RECOMMEND TO CHOOSE "Ask me to choose an authentication method" FOR THE "When I log in:" DROP DOWN IN MY SETTINGS & DEVICES (Screens below)*
Change Default Device
Within the Duo frame you will see a drop down list that reads My default device is: and your standard default device (the first device you added) will be selected. You many drop open the list and select any other device you have added to your account. Click the Save button to complete the change. If you are not certain how you can add additional devices, please see Duo - Adding a Device.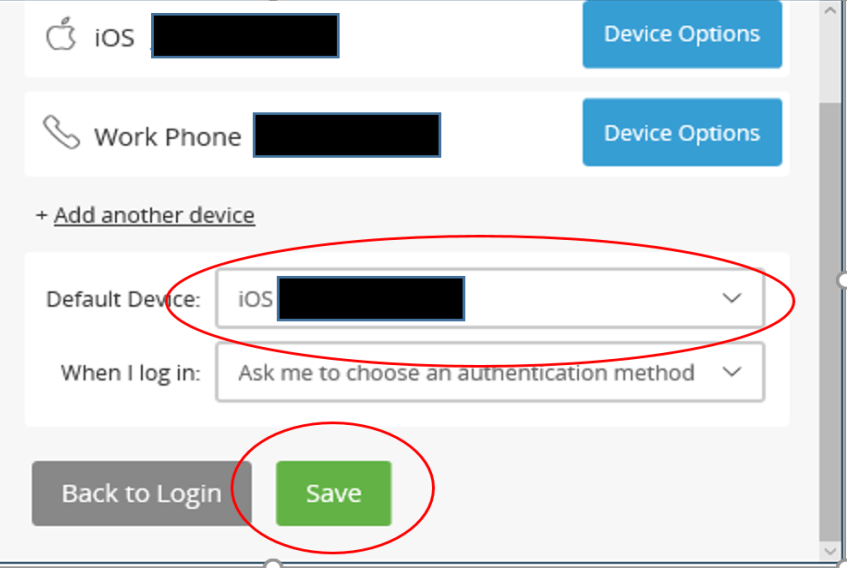 Modify Device Options
Listed in the Duo frame will be all of the devices that have been attached to your Duo account. The options you are able to modify will vary depending on the device type. Look for the device you would like to modify the options of and click the Device Options button.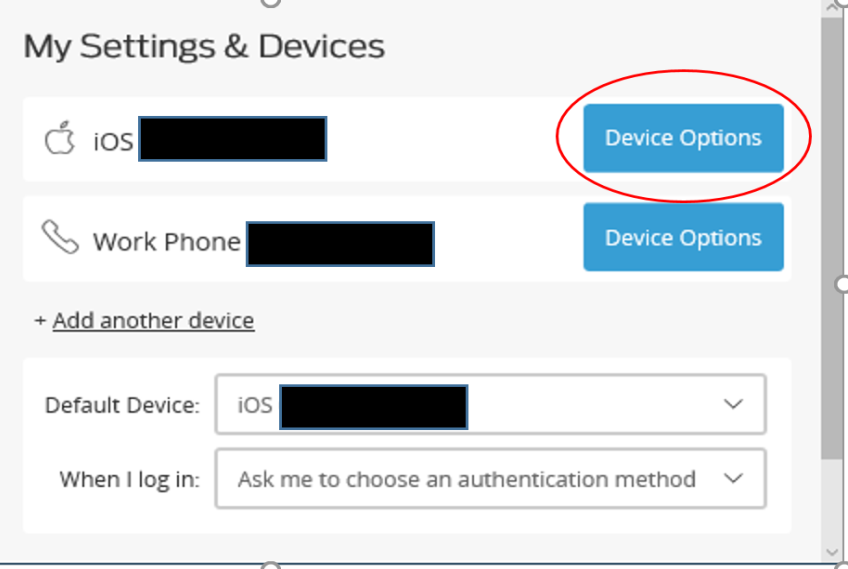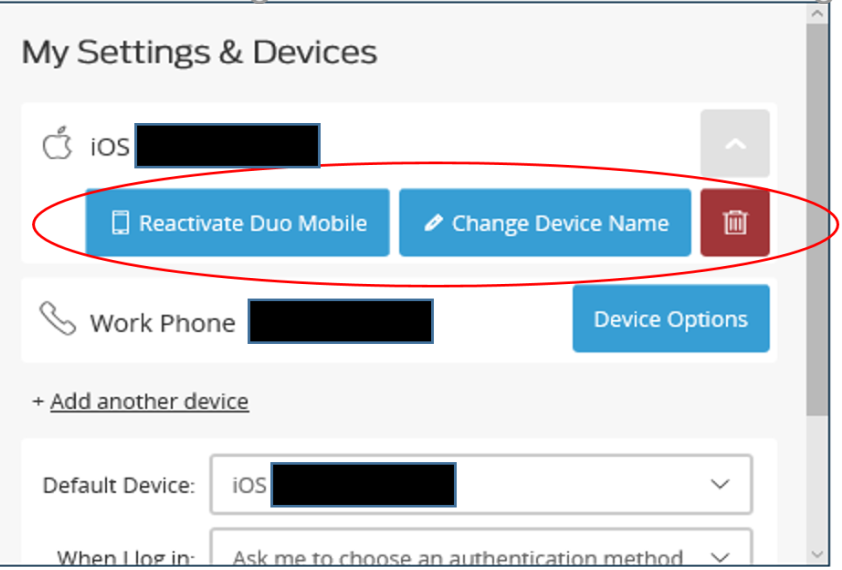 The options that may be available depending upon device are:
Reactivate Duo Mobile
Used when you have to resynch your mobile device using Duo Mobile to your Duo account. This may be necessary in instances where you have uninstalled and reinstalled the app, upgraded your device or in rare instances the application loses its connection to your account. In this case you will just need to walk through the steps and rescan the QR code as seen in Duo - Adding a Device.
Change Device Name
Used to identify different devices. Example would be having both an iPhone and an iPad. It would be easier to differentiate between the two if you provide a more descriptive name other than just the words iOS
Delete
Used to remove a device from your list of registered devices. If you remove a device and did not mean to you will need to add the device again as if it were new. Please see Duo - Adding a Device for details on adding a new device
Within the Duo frame one of the first options you will notice is Automatically send me a: with the options of Duo Push or Phone Call. This means when you access a site restricted by Duo the system will automatically send you a Push or a phone call to your mobile app on your default device so you do not have to go through the process of generating one yourself. This option can also be turned on during your initial set up in Duo however it is NOT recommended. Turning this option on makes it a little harder to make changes to your settings at a later time, even adding an additional device. To turn it on check the box Automatically send me a: and then select the radio button for the type of code you would like to receive, Dup Push to your mobile app or a phone call.
More often people will need assistance in shutting this feature off. If the feature is turned on when you access Duo to make changes you will notice your active area becomes greyed out. You cannot choose any of the options you normally would. Your mobile device will send you a Duo push or a phone call asking you to verify. That is to be expected. You need to ignore the device and do NOT approve the request. Approving the request will just authenticate you into the system bypassing the My Settings & Devices option. Click the Cancel button at the bottom instead.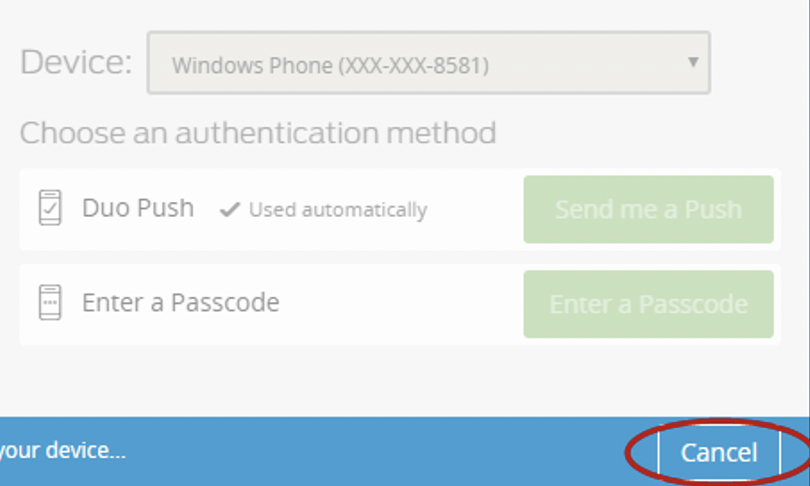 Now you will click the My Settings & Devices link on the left hand side to access the settings. Follow the same authentication steps shown previously. Take the check mark out of the box to shut off the automatic Push or Call and click the Save button to save your changes.