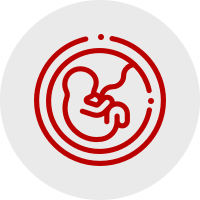 Buckeye Baby Services
THERE ARE MANY REASONS TO BECOME A BUCKEYE BABY PARENT
OSU Health Plan and The Ohio State University Wexner Medical Center are here to assist you throughout pregnancy and after. When you participate in the Buckeye Baby program, you have access to unique services that help you navigate all aspects of your pregnancy and postpartum care. 
Explore the Buckeye Baby services available to expecting and new parents

Online Maternity Pre-Registration
Maternity pre-registration is now available online, click here. 
Help for Complicated Pregnancies
Delivering parents with high-risk pregnancies due to advanced maternal age, diabetes, genetic conditions, a history of premature births and those expecting multiples require extra attention. Through the OSU Health Plan and Buckeye Baby, you have access to excellent high-risk doctors and benefits to help prevent or reduce the incidence of complications. Our nurse case managers will assist in the coordination of your care throughout your pregnancy to ensure you get the care you need.
Breastfeeding Helpline
Call the Breastfeeding Helpline at 614-293-8910 when you have questions or need assistance with nursing your newborn. The lactation specialists at the Maternity Unit at The Ohio State University Wexner Medical Center are ready to help you.
For a list of lactation spaces around the OSU Columbus campus, click here. OSU Health Plan delivering parents have access to the following lactation benefits, up to six lactation consultations covered at 100% and OSU Buckeyes for Breastfeeding support group. Click here to learn more.
Breast Pumps
Since breastfeeding plays an important role in your newborn's health and well-being, we offer benefits-enrolled members and dependents who are pregnant a free breast pump through Edgepark Medical Supplies. To receive your pump, please click here. Pumps can only be ordered in the member's third trimester or after delivery. To learn more about the Edgepark OSU breast pump registration process, click here.
From there, you will identify yourself as living in Ohio and having OSU Health Plan insurance. There are now eleven models from which to choose from. After you make your selection, you can enter your due date and e-mail address. The final step is to enter your demographic, insurance, and physician information.  Once your information is verified with your physician's office, your breast pump will ship directly to your home via UPS. Please note that this process can take up to two weeks.  
For any issues or concerns related to ordering the pump, please contact Edgepark Case Management at 844-564-1007 option 2 (for members) or email cmsupport@edgepark.com.
Postpartum Home Visit
Buckeye Baby delivering parents living in Franklin and contiguous counties will receive a free home visit by a registered nurse shortly after your discharge to make sure your transition to home is going smoothly. The nurse will conduct a clinical check of you and your baby, follow-up on any issues your doctor identified at the time of discharge, and talk with you about any difficulties you may be experiencing adjusting to life's changes.
Pregnancy and Childbirth Classes
The Ohio State University Wexner Medical Center offers a variety of educational classes for expectant parents. For more information, view Pregnancy and Childbirth Education on the Wexner Medical Center website. To register, call 614-293-5123 or schedule online via MyChart.
---
Childbirth Education
This class helps prepare you and your spouse/support person for the events of labor and birthing. You will participate in a comprehensive overview of the birth process including signs and stages of labor, relaxation and breathing techniques, pain management options and the birthing experience.
---
Marvelous Multiples 
Expecting twins, triplets or more? OSU Maternity Center tailored this class for your unique situation. Learn about making your pregnancy more comfortable, the labor and delivery process, preparing for the births, bringing your babies home, managing daily routines, connecting with community resources, and more. Please note: This class should not serve as a substitute for the Childbirth Education class.
---
Sibling Class
A new member of any family significantly changes the family dynamics. This class shows you steps to prepare future siblings for the upcoming changes. In addition, siblings receive extra attention as they get ready for the new baby's arrival by seeing the hospital and learning new skills such as holding and diapering.
---
Breastfeeding Basics
Take time during your pregnancy to learn more about the basics of feeding your baby the best of nutrition. Discuss with lactation consultants the what, where, when, why and how of breastfeeding in today's world. Because support from your spouse or support person is so helpful, we encourage them to attend along with you.
---
Baby Basics
If you have a baby on the way, and you need to know the basics, then this class is for you! Gain more confidence in caring for your soon-to-arrive newborn (or new grandchild) in this class that covers everything from diapering and bathing to choosing toys and creating a safe environment.
---
Infant and Pediatric CPR
Performing cardio-pulmonary resuscitation (CPR) could prove invaluable for every parent, grandparent and childcare provider. Take the time to learn this life-saving technique, taught by certified basic life support instructors.
Complimentary and confidential pregnancy and postpartum services for those who have OSU Health Plan insurance